Gyeonggi English Program in Korea
About Gyeonggi Province and Major Locations
About GEPIK
Requirements for GEPIK
Remuneration
How to apply for GEPIK
Download for GEPIK
About Gyeonggi Province
Gyeonggi-Province is the most populous province in South Korea. The provincial capital is located at Suwon.
Seoul-South Korea's largest city and national capital-is located in the heart of the province, but has been separately administered as a provincial-level special city since 1946.
Incheon-South Korea's third largest city-is located on the coast of the province, but has been similarly administered as a provincial-level metropolitan city since 1981.

The three administrations between them cover 11,730 sq.km, with a combined (census) population in 2005 of 22,766,850-amounting to over 48% of the entire population of South Korea.
Gyeonggi Province, as of May 7 2008, consists of 27 cities (special: 7, normal: 20) and four counties. This is because many counties were elevated to city status owing to the influence of Seoul's new town development plan. Special cities are especially concentrated in the southern area of Gyeonggi Province.

Seoul, the capital of Korea, is surrounded by Gyeonggi Province. The Seoul-Gyeonggi metropolitan area is home to 24 million people, accounting for approximately half of the total population of South Korea. Gyeonggi Province itself had a population exceeding 11 million people in 2008, the vast majority of which live in urban areas. The population of Gyeonggi Province makes it the largest local self-governing body in Korea.

List of Major Cities in Gyeonggi-do

About GEPIK
Gyeonggi English Program is a flagship initiative of GPOE as a driving force of achieving dynamic and quality English education in our schools by inviting young and educated individuals from English speaking countries.

GEPIK is on its 7th year as of 2010, and currently, there are over 1,300 teachers from the designated seven countries of; Australia, New Zealand, USA, Canada, UK, Ireland, and South Africa respectively.

Where do our teachers come from?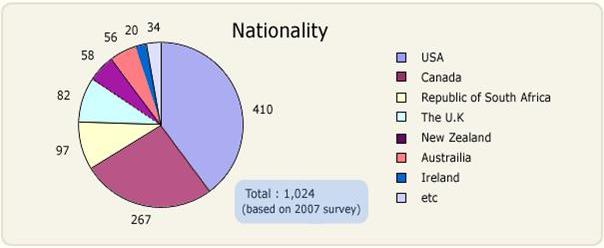 Total numbers of GEPIK teachers

school/year
2008
2009
2010
(Estimates)
Elementary
(Grades 1-6)
550
650
850
Middle
(Grades 7-9)
372
512
652
High
(Grades 10-12)
350
380
450
Total
1272
1542
1952

Our GEPIK teachers are making a significant different in realizing an authentic and practical English education into our classrooms. Additionally, they've been able to improve the native Korean English teachers' English and their cultural understanding of the "West" through the collaborative and interactive works required with the team-teaching.

Among many other ESL/ EFL teaching opportunities that are available in the market for the English speakers, GEPIK offers one of the most secure and rewarding teaching environments with competitive and highly attractive remuneration package, not to mention the life-enriching opportunity of working and living in a different culture as a public or private school teacher.

1. Job Description
Primarily, GEPIK teachers are required to conduct beginner to intermediate English classes at an assigned Gyeonggi school with a Korean "co-teacher" as a team. The GEPIK teachers are required to teach 22 classes (varying from 40 mins to 50mins) per week. There are other various extra curricular programs schools run such as English Day Camp, English Speech contest and quite often, English classes for the fellow Korean teachers.
2. Eligibility
Applicants must be a graduate with a Bachelors Degree from a nationally accredited tertiary institution and a citizen of one of the seven major English speaking countries: Australia, Canada, New Zealand, UK, Ireland, US, and South Africa.
'Overseas Koreans' without the foreign citizenship can also apply and must have at least 10 years of residence history including min. 3 years of secondary schooling as well as an university degree / tertiary education diploma obtained from the above-mentioned country of residence.
3. Contract Term and Other Conditions
The contract term is for ONE YEAR (365 calendar days). The contract is renewable after completion. GEPIK teachers work approximately 8 hours per day, 5 days per week from Monday to Friday. Actual class instruction hours usually do not exceed 22 hours per week although it depends on the size of the school. If or when exceeded, teachers receive a supplementary class instruction pay of 20,000 KRW per hour (about US$26).
4. Benefits
4-1. Accommodation
GEPIK offers a furnished housing including kitchenware, a washing machine, a refrigerator, a TV set, etc. Any and all fees, charges, costs, taxes, expenses, etc. incurred while using the facility however will be borne by the teacher.

4-2. Airfare
GEPIK teacher's flights to and from Korea are reimbursed by the school upon arrival and departure respectively. If the teacher renews the contract for another year, he/she will be entitled to a 2 week (incl. weekend) "Home Leave" vacation, and the airfare for this vacation is reimbursed upon return.

4-3. Paid Vacation
GEPIK offers 20 working days' vacation per year which should be used during school vacation periods usually in the months of July-August and/or January-February. Teachers do not work during weekends and the Korean National Holidays.

4-4. Other Deductions
- Tax: The 1st two years of employment in Korea is TAX FREE (with exception of Canadian citizens) Tax is nominal in Korea, which is only about 3% of yearly earnings.
- Pension Fund: 9% of monthly salary goes to Korean national pension fund in which teacher's contribution is 4.5% whereby another 4.5% is paid by school. Citizens from the U.S and Canada may reclaim this pension payment with premiums at the end of their contract. South African teachers are exempted from the Pension fund.
More information is available from the National Pension Service website http://www.nps.or.kr/
- National Health Insurance: About 2.4 % of teacher's monthly salary is deducted whereby another 2.4% is paid by school.
More information is available from the National Health Insurance Corporation website http://www.nhic.or.kr/portal/site/eng/
ESL AGENT is a nationally approved designated recruitment company for the GEPIK, SMOE, and all private schools in Korea.

Requirements for GEPIK
1. Application Form
Applicant must fill in GEPIK application form which includes a personal essay and self medical check form.
All documents including the self medical check must be signed or initialed according to the requirements of the document before being mailed to our ESL Agent office.

2. Resume with Cover Letter
Resume must have all teaching related jobs or volunteer work with a cover letter.

3. BA and MA Diploma (notarized copy only)
GEPIK applicant must have 3~4 years BA qualification or above and applicants must provide an Apostillized copy of diploma, a Korean consulate notarized copy of diploma, or in case of Korea, a home country consulate's notarized copy of diploma.

4. Two Official Sealed Transcripts (BA and MA)
Officially Sealed Academic Transcripts must be provided and applicant must provide additional MA or Doctorate transcripts, if it is applicable. We will need two sealed transcripts, because Korean immigration and the school the applicant is to be placed will request the applicant's transcript.

5. A Clear Copy of Passport (First opened page with the photo on it)
Scanned copy which shows a clear image of the teacher. Notarization will not be required for the copy of passport. Clear photo copies will also be accepted.

6. Criminal Background Check
Notarized (Apostillized) statewide criminal background check. Criminal record check only valid 6 month after it issued.
Web Search Result of Criminal Record Check is not Acceptable and CRC must clearly state that "No Record" or "No record founded" on the statement.
Local police clearance is not acceptable, Applicant must obtain criminal background check of state level or federal.

7. Two reference (recommendation) letters
Professional recommendation letter (originals only). Friend or close relative can't issue this reference letter. Academic Professor or employer should issue this letter and letter must have letter head and contact information with signature on.
NOTE: Recommendation letters must be original including issuer's signature

8. Teaching Certification or Language Certificate (TESOL or CELTA)
Certify teacher must provide notarized copy of teaching certification and Language certificate such as TESOL or TEFL course must be more than 100 hrs credit, otherwise it won't effect on your salary level (certificate holder will have a higher salary according to the GEPIK pay scale). Salary is non-negotiable.

9. 4 passport size photo
You need to prepare several passport photos for various needs.

10. Three Copies of Contract
ESL AGENT will provide you a copy of contract and you need to make three copies and every page must be signed before it sent to our office.

11. Letter of full-time teaching experience proof
If the applicant wishes to provide proof of work experience for a higher pay scale, then applicant must provide an official letter from previous employer in order to proof applicant's full-time teaching experience. Copy of visa or copy of contract will not be acceptable and period of employment and "full-time employee" should be stated on your letter.
Only one FULL year of experience will be considered as a full time teaching experience (for better salary criteria).
Only Employment verification from Public school or District Office of education will be accepted for experience proof(for teaching employment in Korea) and letter's from a Hagwon, or private academies will not be acceptable due to GEPIK policy.

12. Self Medical Check form for immigration office (If it's applicable)
Self medical check form need to be filled in and send to our Office. Any candidate who will apply E2 visa at Korean Immigration office must fill in this form in order to apply E2 visa at Korean immigration office.

Remuneration
Pay will be strictly set according to the GEPIK pay scale. Salary will be non-negotiable. Monthly salary ranges from 2.0 mill. KRW to 3.0mill. KRW (about US$2000 to US$3000) depending upon qualifications and experiences.
Payday is on the 17th day of each month.
The one-time settlement allowance of 300,000 KRW (about US$390) is also provided within the first two weeks of arrival, usually the airfare reimbursement following shortly after within a month also.
Upon successful completion of each 1 year contract, GEPIK teachers are rewarded with one month's salary as a severance payment in accordance with the Labor Standards Act of Korea.
Category 3: 2.0 million won per month
- A Bachelor's degree from an accredited university in one of major English-speaking countries with the instructions taught in English.
Category 2: 2.1 million won per month
Category 3 Plus one of the follwings:
TEFL/TESOL/CELTA (min.of 100 hrs) Certificate
Minimum one year of full time English teaching experience at accredited institution(s)
Bachelor's degree with a major in English Literature/English Language/Linguistics (Must be clearly stated on either the diploma certificate or official transcript)
Category 2+: 2.2 million won per month
Category 3 Plus one of the follwings:
A Master's degree.
Elementary, Middle, or Secondary School Teacher's Certificate
Bachelor's degree in Education(Must be clearly stated on either the diploma certificate or official transcript)
Employed as a Category 2 teacher at GEPIK for one full year.
Category 1: 2.3 million won per month
Category 3 AND Minimum two years of full time English teaching experience at accredited institution(s) Plus one of the follwings:
A Master's degree.
Elementary, Middle, or Secondary School Teacher's Certificate
Bachelor's degree in Education/ English Literature/ English Language/ Linguistics (Must be clearly stated on either the diploma certificate or official transcript)
TEFL/TESOL/CELTA (min.of 100 hrs) Certificate
Category 1+: 2.4 million won per month
- Employed as a Category 1 teacher at GEPIK for one full year
Category S: 2.5 million won per month
- Category 1 AND Minimum two consecutive years of employment within GEPIK (i.e. minimum of four years of full time English teaching experience)

How to Apply for GEPIK
Before you start
If this is your first time to apply teaching position in GEPIK, feel free to contact us anytime. We are glad to answer your questions and consult you about this wonderful opportunity and job hiring process.

Contact Information
Office Phone: 82-2-2675-0582 (Mon~Fri: 9:30 to 6:30)
Contact Our Office
E-mail: eslagent@paran.com
Application Deadline
Application forms and all other documents must be in the office to which you are applying by the deadline date. Interviews will follow immediately after the receipt of applications. The documents you submit will not be returned, so please make copies for yourself.
The deadline date for submission of completed applications is Jan 31st, 2009. Early submission is encouraged.
Requested Documents
All applicants will be required to submit the following documents:

A completed application form with a passport size photo attached, (download below)
3 Passport size photo
Medical form - self evaluation, (included in application form)
Resume with Cover letter,
Two reference letters, (Any format. Must contain contact/title and organization of the referrer.)
Authenticated Police check report (Criminal Record),
Original university diploma or a copy notarized by Korean overseas consulate office.
Two official school transcript sealed by appropriate school authority.
A scanned copy of the passport (photo page). Clear photo copies will be accepted
(If applicable) Notarized copies of certification (teacher certificate, TESOL, etc),
(If applicable) Proof of teaching/work experience,
It is strongly advised to send all these documents together at one time rather than separately to save money and time for all parties involved.
If you unable to do so, then let us know. Please gather all the necessary documents and let us know if you have any questions.
Address to send your application and documents

ESL AGENT
Attn: GEPIK Department
Daehan Bldg. #202
121-173 Dangsan-dong 6ga,
Yeongdeungpo-gu, Seoul, South Korea


Download for GEPIK

GEPIK Application Guidebook (Adobe Reader, Acrobat)




Application package in Doc file (MS Office, Word Program)




Application package in PDF file (Adobe Reader, Acrobat)




GEPIK Contract in Doc file (MS Office, Word Program)




GEPIK Contract in PDF file (Adobe Reader, Acrobat)




Dr.GEPIK (School and living information)